In honor of this short week, we've got a condensed version of The Weekly Download to share with you today!
On the docket: Facebook's Privacy Shortcuts, a new winner in the battle between SEO and social, podcast recommendations, changes to Instagram's algorithm, and Passover explained.
Facebook announces Privacy Shortcuts
Still dealing with the fallout from the Cambridge Analytica scandal, Facebook's Mark Zuckerberg is sharing information about user privacy and how you can check on yours.
Facebook's Privacy Shortcuts will allow users to access all privacy and security settings in one place. In addition to Privacy Shortcuts, a tool with all the platform apps you've signed into will be available at the top of your News Feed so you can easily remove any apps you no longer use.
Some companies, however, aren't waiting around for Facebook to tighten up their data security. Mozilla, the folks behind FireFox, just released an add on extension that will stop Facebook from tracking you around the web. According to computer security news site Naked Security, "…the extension "prevents Facebook from tracking you around the web." Essentially, it keeps all Facebook activity within the browser tab where you are actively looking at Facebook, and it slaps Facebook's hand if it tries to do anything outside of that tab." Well done, Mozilla!
What are your thoughts? Is Privacy Shortcuts a welcome addition to the social network, or a "too little, too late" effort designed to regain user trust? Either way, no need to panic and leave Facebook… at least not yet.
SEO vs. Social: There's a new winner in town
According to new research, social media's reign as a top source of referred traffic to websites may be over – for the first time in three years, search is responsible for more website traffic than social.
According to the most recent version of a study that measures traffic sources for more than 250,000 websites, across more than 400 million visits, the top six search engines sent 34.8 percent of traffic. The top 13 social networks sent 25.6 percent of visitors.
So, why the big change in referral traffic? Four reasons stand out, including a reduction in the use of social overall, the deprioritization of companies and organizations in social algorithms, less exposure for posts containing links, and search indexing more social content.
Although SEO is the referral winner (for now), don't neglect social. Pay special attention to channels like LinkedIn and Pinterest – the study shows they're making gains in referral traffic, too.
Instagram to show more recent posts first
Miss Instagram's old chronological algorithm? You're not alone. And you may be in luck.
While the chronological theme isn't coming back, Instagram is making changes to their algorithm to display more recent posts at the top of your feed.
The app is also testing a "New Posts" button that lets you choose when you want to refresh, rather than it happening automatically. Tap the button and you'll be taken to new posts at the top of feed — don't tap, and you'll stay where you are.
Canadian brands fall behind on Ipsos's annual influential survey
Some of Canada's biggest brands are slipping to the bottom of the pile when it comes to influentiality, according to a new report from Ipsos.
Canadian brands like Tim Hortons, Shoppers Drug Mart, and President's Choice were ranked near the bottom of the top 20 list, while tech giants like Facebook, Google and Apple earned top spots. The survey, conducted in January of this year, does not reflect the news revealed earlier this month regarding the Cambridge Analytica scandal at Facebook.
Are you surprised seeing so many big Canadian brands at the bottom of the list?
Friday Fun
Don't be an April Fool this Easter
Easter Sunday falls on April Fools this year and there's already lots of fun ideas being shared about some Easter fools and others that may be in poor taste. Which will you be – the funny bunny prankster or the April Fool?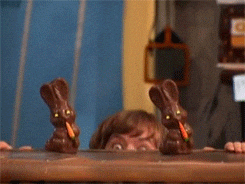 Mayim Bialik on Passover
Today marks the start of Passover. Unsure what the festival entails? Let Mayim Bialik bring you up to speed.